In Singapore, working parents have a few alternatives with regard to minding their child. A few of them are:
1. Pre-school cum child care centre: Children from the age of 2 months are taken into infant or child care centres that offer full day and half day programmes to take care of the child while the parents are away at work.
2. Relatives: Larger families, with grandparents or other older relatives living with the parents, can also act as care-givers for the child while the parents are away. The trust factor is the greatest advantage here, both for the parents and for the child.
3. Nanny: Parents who do not wish to leave the child in an unfamiliar setting, but do not have close family to care for the child at home, prefer to hire a nanny on the basis of word-of-mouth recommendations, or some professional service agency. It can be on a continuous, uniform basis, or on an ad-hoc, when-required basis.
Each of these options has its own set of positives and negatives. These are as follows:
Singapore infant care centre:
Pros:
1. Professional staff to care for the child.
2. Company for the child in the form of other children.
3. Safety of larger numbers, compared one-on-one exposure in at-home care.
4. Standardised and formalised education process, meaning the child is not only cared for, but also taught many age-relevant skills.
Cons:
1. Chances of frequent illnesses due to exposure to many children.
2. The child is required to adjust to unfamiliar setting and non-familiar faces.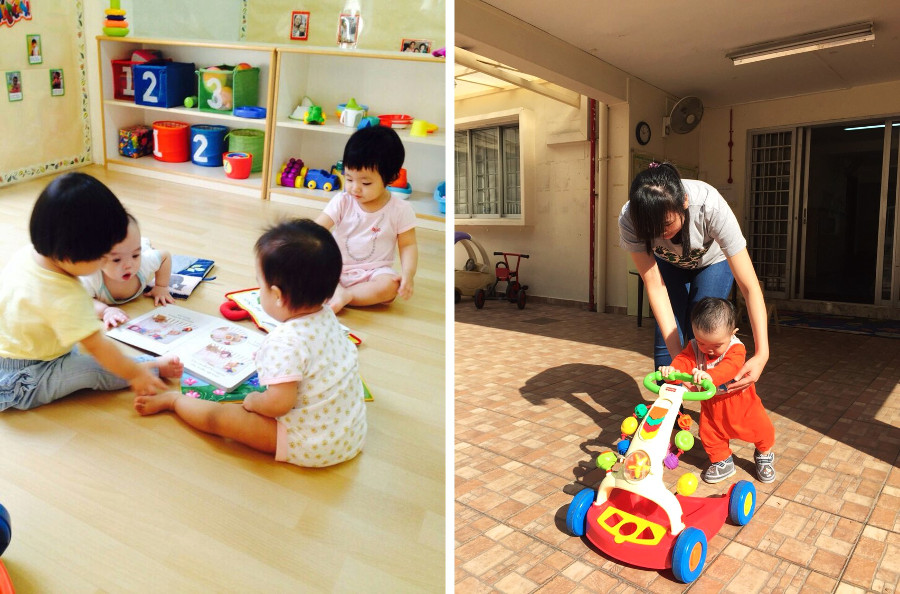 3. Parents have to drop off and pick up the child from the Singapore infant care centre .
4. The trappings of a professional set-up mean a child may not get the same pampering that he/she may get from an at-home carer.
At home care:
Pros:
1. Highest comfort for the child as the surroundings are familiar. In case of family caring for the child, even the care-giver is familiar to the child.
2. Chances of contracting infections are less because of less exposure to other children.
3. Parents do not have to pick up and drop off the child.
4. The child get the most attention.
Cons:
1. No formalised education is imparted at home.
2. In the case of hiring a nanny, the trust factor has to be absolute, as the child is at her mercy alone.
3. It might become restrictive for the family member caring for the child, as they are fully engaged looking after the child till the parents return.